The first par-4 on our list takes us to Phuket, Thailand and the fantastic Red Mountain Golf Club. Set amongst an old Tin Mine, the golf course is one of the best in Thailand, and certainly in Phuket. With lots of elevation changes, tight fairways and no room to miss on the fairways, it is an excellent challenge. The popular choice for top hole for many, may be the par-3 17th which is a steep downhill par 3. However, we feel there is an even better, more fun and more challenging hole which is the par-4 8th hole.
The hole plays significantly down hill from the tee, and is a classic risk/reward hole at Red Mountain. There are two options off the tee – 1) use a short to mid-iron and play off to the right which has a large, generous landing area taking the water out of play. 2) Take out the driver and give it all you've got! There is a small, narrow landing area just over a fairway bunker which, if yardage and direction is controlled correctly, will leave just a short pitch and better angle into the green, while taking water out of play on the second shot. Either way, it is a great start to an exciting and beautiful golf hole.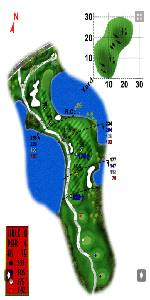 The approach shot to the green can be a tricky one, depending on what shot you played off the tee. If you took the conservative route and laid up to the landing area on the right, it leaves about 120 yards to the green. The issue is, the shot is over water with no real space to land it short, and the green from this angle is narrow, with a bunker over the back, thus requiring the perfect approach.
If you have gone big off the tee and hit a beauty, this hole is much simpler from here-on-in. A short pitch from a very preferable angle means there's lots of green to play with and should result in an excellent chance for birdie.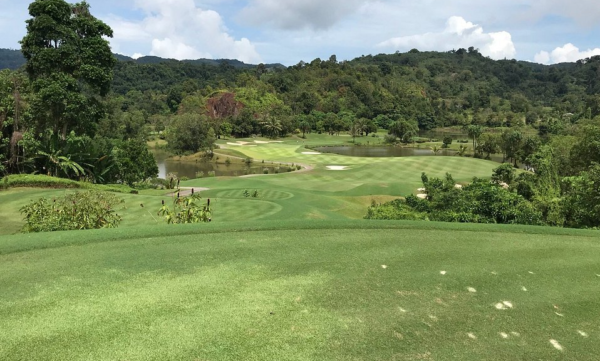 If you were unlucky and landed in the greenside bunker, it leaves a tricky bunker shot that is heading directly to the water and downhill, so precision is definitely required from the beach. With the back-to-front slope, albeit not very steep, the green can provide for some interesting putts and it is good to ensure you know if you are going up, down or have a sideways break.
In the end, this classic hole can provide any type of scores and can be a pivotal hole in a round of golf at Red Mountain Golf Club. Have you played here? What did you think about this hole? Tell us on our Facebook post by clicking here.
Top Destinations