Next up in our Thailand's Top 18 Holes series is Grand Prix Golf Club, another hidden gem that would get in the top ten of most golfer's courses in Thailand. Located in Kanchanaburi, Thailand, Grand Prix Golf Club is an ideal course to stop and play as a way to break up your journey when traveling from Bangkok to Hua Hin or vice-versa. It's located about 35 minutes north of the this significant World War 2 city and offers breathtaking scenery from just about every hole on the course.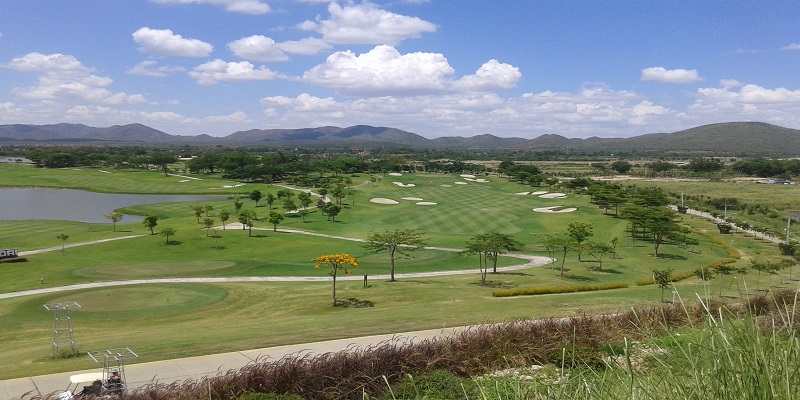 The 10th hole at Grand Prix Golf Club measures 398 yards from the Blue tees and requires a slight right-to-left ball flight off the tee, to contour to the fairway which doglegs left and which is guarded by bunkers at the corner of the dogleg. Something finishing up in the right-center of the fairway would be best, however if playing too far right there are bunkers on the right side of the fairway that come in to play and can make the hole much more difficult. Due to the nature of the second shot, it is important to get the tee shot into the right part of the hole, as to not make the hole a whole lot more difficult.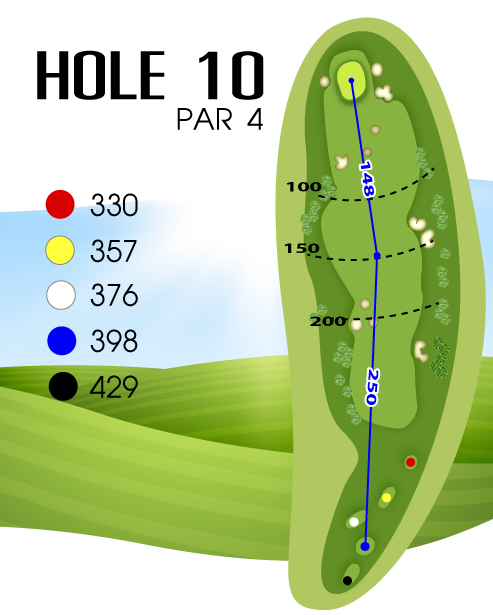 The second shot here is the key shot, and really makes or breaks this hole. Trouble lies here with three bunkers about 40 yards short of the green which foreshortens the second shot. This clever design Grand Prix Golf Club has come up with more often than not makes the second short come up short. leaving a very difficult bunker shot if landing in one of these bunkers, and really bringing big numbers in to play. There's no shame in being a bit long on this hole. While it will be a difficult putt coming down the hill, its much better than ending up short in one of these bunkers. Take your caddie's advice here as it always plays one more club than it looks.
The green here slopes back to front and is slightly raised. There is a bowl in the middle part of the green, so if there is a middle pin here, it's recommended to hit the 2nd shot past the hole and use the slope at the back of the green to bring the ball down into the middle portion of the green. There are some small nuances to the green, so as with the 2nd shot (and every other shot for that matter), we recommend taking the advice of your caddie and getting down in two for a par, and a great way to start your back 9 at Grand Prix Golf Club!
Have you been able to experience golf in Kanchanaburi? Let us know your experience on our Facebook page!
Kanchanaburi Golf Experiences
Top Destinations