Today's installment in our Thailand's Top 18 Holes feature is at Springfield Royal Country Club in Hua Hin, Thailand is home to some fantastic golf holes, scattered throughout an excellent 27 hole layout. However, hole 9B, which often plays as hole 18 in a round, is an outstanding finishing hole playing 500 yards from the Blue markers, with a ninety degree dog leg left playing to an island green and vistas of the beautiful clubhouse in the background.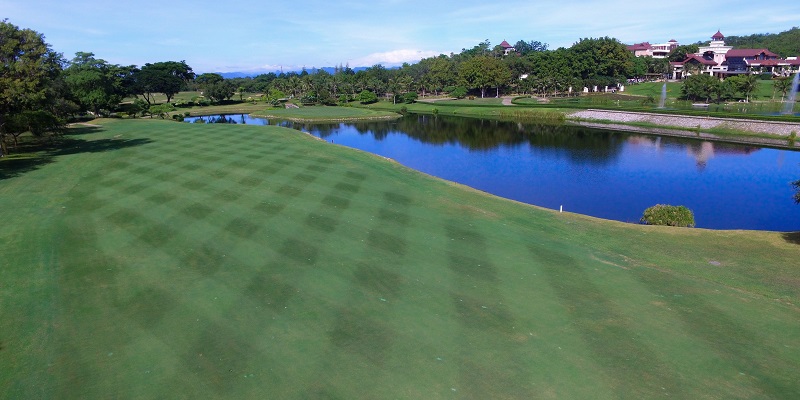 There are two ways of playing this hole. For the longer hitters, they'll need to carry the bunker on the corner of the dog leg which is 259 yards from the back tee and 220 yards from the Blue tee. From there, the approach can be anything from 180 to 220 yards once the corner has been negotiated. For those that hit it long or like to take the risk, it is possible to go for the green in two, however with the large amount of water protecting the green, the approach needs to be high and extremely accurate in order to hit and hold the green. A lot depends on the tee shot when going for it in two.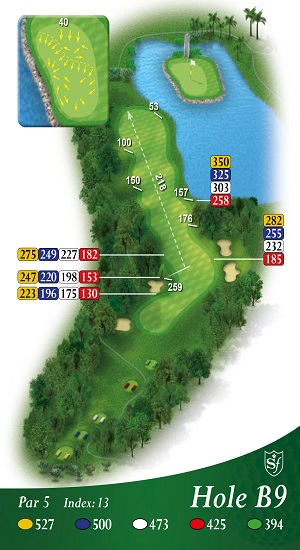 The most popular and safer way to play the hole however would be a safe 3 wood off the tee, then lay up to the widest part of the fairway with a 6 or 7 iron, leaving an 80 yard nervous pitch shot across the daunting water to the island green. From there, the green is your playground with some interesting slopes that, when coupled with the size of the green, can make a two putt tricky and a fulfilling way to complete a round of golf at Springfield Royal Country Club.
We have this hole included in our Thailand's Top 18 Holes as whether you are playing medal or match play, anything can happen on this hole and can provide for scintillating finish to a match or round. In addition as the lay up area is fairly undulating, a nasty downhole lie is possible and whichever way you play it, it's always nice to walk off with a par.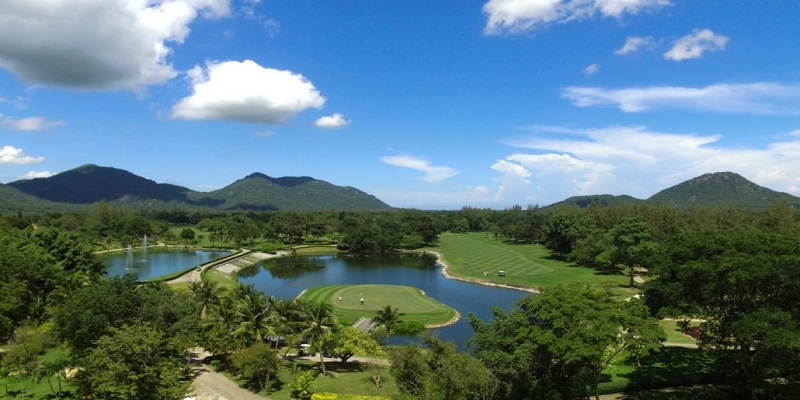 Top Destinations