The island of Phuket is located in southern Thailand and is surrounded by the turquoise waters of the Andaman Sea. Golfers coming to Phuket are truly playing golf in paradise, but there is also so much more to Phuket than just the golf. We will go through some of the accommodation options, golf courses and attractions in Phuket, to you the traveler, a better idea of what's in store when heading to the tropical shores of Phuket.
Phuket and the neighbouring province of Phang Nga have a total of 9 golf courses to choose from. Some play with holes along the ocean, while some play through the hills with lots of forest guarding the fairways. This results in some of the most diverse golf course choices in the entire country. With that said, here is some information on the top courses in the province.
Red Mountain Golf Club is located in the Kathu area, about 15 minutes from Patong and 30 minutes from the Laguna area. The course is rated amongst the best in Thailand. Playing through an old tin mine, the fairways here are very tight, leaving little room to miss without being located on the red clay or in the forest! Accuracy is key here, and it pays to be playing from the fairway for your 2nd shot.
There is lots of undulation at the course, and the views provided from some of the tee boxes are simply spectacular. The signature par 3 seventeenth hole is one of those, with a large drop down from the tee to the green. Not to be out done though are views from holes such as the 18th, off the back of the green at the 16th, or down the hill on the 6th. It is definitely a course to include, and one to bring your camera to.


Blue Canyon Country Club - Canyon Course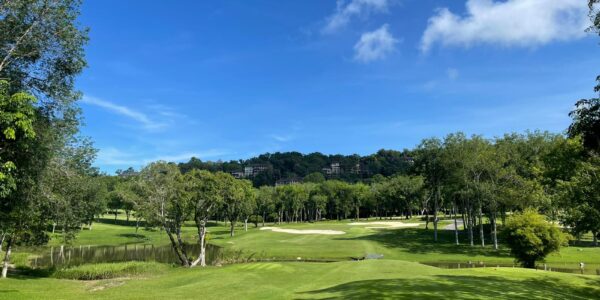 The Canyon Course at Blue Canyon is one of, if not the best, layout in Thailand. Having hosted the Johnnie Walker Classic on 3 occasions including one win by Tiger Woods, the course is a top level course which provides a challenge to even the lowest handicappers. Located near Phuket International Airport, it is a great option if you are looking to play immediately after arrival, or for one last round before heading home!
Blue Canyon Country Club – Canyon Course underwent some significant renovations which were completed in March 2021. This has brought the course back up to its championship standard after some years of less than desirable quality. The greens are fantastic, the grass in the fairways is like carpet and the tee boxes are lush. Combined with the tree-lined fairways and length the course has as its defense, the Canyon Course is a definitely a course to include when on a Phuket golf holiday.
Aquella Golf & Country Club
Aquella Golf & Country Club is the newest course in the Phuket area, about 45 minutes north of Phuket airport in the province of Phang Nga. Aquella Golf & Country Club is actually a renovated course, and has had a lot of money put into it to make it a 5-star golf course. With holes playing along the ocean, it is definitely spectacular. The layout is very enjoyable and the course is not overly long, which means it is enjoyable for all. The signature hole is the par 3 eleventh hole, which tees off directly towards the Andaman sea.
When playing at Aquella Golf & Country Club, one will experience not only high quality golf on well-manicured fairways and greens, but the facilities and services at the course are top notch. The clubhouse is new and modern, taking advantage of the traditional Thai woods to enhance the Thai feeling. The locker room is fully equipped, with all amenities a golfer would require. The golf carts come with a GPS tracker so not only will your caddie be able to help, you will also have the GPS to guide you around and give you distances. When finished your round, take a refreshing shower then enjoy the fantastic food and views from the restaurant.


Other Phuket Golf Courses


In addition to the 3 courses mentioned above, there are still 6 other great courses in the area to pick from. Blue Canyon Country Club – Lakes Course would be right up there. The sister course to the Canyon Course is a very good course, with one of the best par 4's in Thailand. Loch Palm Golf Club is the sister course to Red Mountain Golf Club. It is not so long but a very enjoyable day, winding through vast Palm Tree forests. Mission Hills Phuket has some spectacular holes along the ocean, and Phuket Country Club is a local's favourite. Last but not least, there is Katathong Golf Club in Phang Nga which has some spectacular holes playing through the hills of Phang Nga.
With such a vast array of choices when it comes to golf, a full itinerary can be built to match each golfer's preferences, and ensure an enjoyable time out on the links around Phuket!
Phuket is known for its white sand beaches, however in addition to that and the great golf on the island, there is so much more to do. From watching the sunset at Promthep Cape, to visiting the famous Wat Chalong (Chalong Temple), or visiting the first sustainable Elephant sanctuary on the island to learn about Thailand's national elephant from a refuge that treats the elephants humanely and not as an attraction, there is so much to take in while in Phuket.


There's no better spot to watch catch a beautiful sunset than at Promthep Cape in southern Phuket. This spot provides unobstructed views out to the west, ensuring each golden ray is seen to its fullest. There are areas to sit and watch the sun go down and some vendors sell food and drinks. There is also a small temple and naval observatory at the cape. For those who are a little bit more adventerous, jump the small wall and you can walk all the way down the hill to the tip of the cape. If doing that, it can get dark on the way back so be sure to have a flashlight or similar with you.
We recommend getting there about 45 minutes prior to sunset to get a good spot, as it can get quite busy. If doing it on an off day, we recommend coupling it with a trip to Nai Harn Beach, which is one of the best beaches on the island and is just a short drive down the hill from Promthep Cape. A day soaking up the sun and an evening watching it go down – how much better can it really get?!
Wat Chalong (Chalong Temple) was built in the 19th century and is the most important temple in Phuket and the hall of Luang Poh Cham is widely seen as the most important temple in the complex. This contains statues of many prominent people from Phuket's history. Many locals still come to the temple complex on a daily basis to make merit, light off fire crackers in hopes of good fortune and to meditate as is very common in Buddhism. There is a total of 4 different temples/pagodas in the complex, and each is unique and ordained with an important Buddhist role and history.
For many, the highlight of Wat Chalong is the Grand Pagoda which is said to house a splinter of Lord Buddha's bone. It is at the very top of the pagoda, and it is accessible via stairs. The view from the top of the pagoda over Chalong is also quite nice. It is important to remember that temples are places of religion, so sleeveless shirts and skirts will need to be covered up. It is also custom to take your shoes off before entering a temple. With that said, this is a great cultural and religious spot in Phuket and one to consider should you be looking to take in some of the local religion.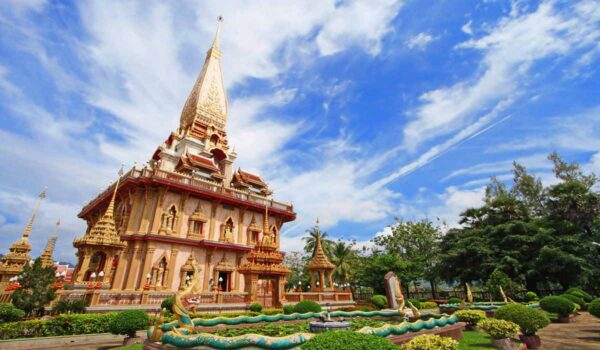 Phuket Elephant Sanctuary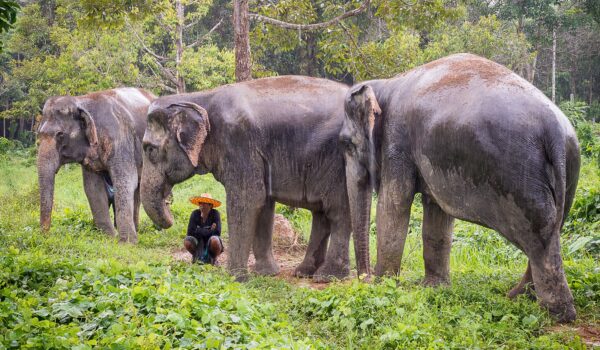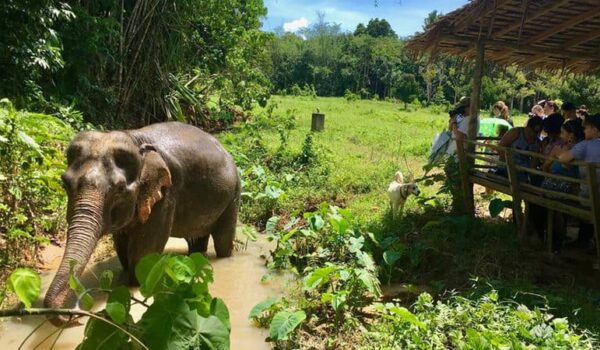 The Elephant is Thailand's national animal, and has played a vital role in the nation's history. From being soldiers in ancient wars, to helping early society establish itself, the Elephants are a loved and revered animal in Thailand. Unfortunately over the years, they have been used in shows and for riding, but thankfully the Phuket Elephant Sanctuary was started and has rescued many elephants from tough situations, and has provided a caring and safe home for them to roam freely and live a life away from the streets of Bangkok or crowded zoos. The sanctuary does not offer Elephant rides or Elephant bathing, rather it allows visitors to learn more about these majestic animals, about their intelligence, how they live, how they are looked after and rehabilitated after being stuck in some harrowing situations. This is truly a great spot for these Elephants.
If you are looking for a safe, ethical and educational way to be around and learn about these beautiful animals, then a trip to the Phuket Elephant Sanctuary is just what we recommend. After visiting the sanctuary, you will come away with a better understanding of the Elephant, the efforts being made to improve the life of all Elephants in the Kingdom, and got to spend some time in their habitat, learning about them and seeing them, without impacting their day-to-day lives. We recommend booking in advance if you wish to do this fantastic trip, and Asia Golf Experiences can help you do that.
Thailand is known for its delicious food. The flavours, spices and aromas all mix together to provide for a truly amazing culinary experience. While there are many restaurants in Phuket, be it Thai or from any corner of the world, we have a few that are authentic Thai choices, with authentic Thai prices. In addition, sometimes we all need a slice of the west and there's a great pub with fantastic pub grub and drinks that has that covered.
Located in the heart of Patong Beach, just steps off beach road, is the fantastic Thai restaurant Sabai Sabai. This family-run shop is a very popular spot for locals and tourists alike. The food is great, the prices are cheap, and it is a clean and comfortable restaurant to sit and enjoy. There are options for both Thai and western food, but we definitely recommend going with the Thai food. If you're not into eating spicy, don't worry. Just order your dish and then tell them "mai ped"  (not spicy) and you'll get the same great flavours without the burning tongue! If looking for recommended dishes, we would say go for the "Penang Gai" (Penang Chicken), "Moo Tord Gratiem" (Pork with garlic and pepper) and to drink, a nice cold beer or if you're looking for non-alcoholic, go for the "Soda Manao" (Lime Soda).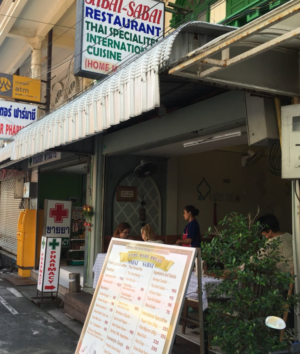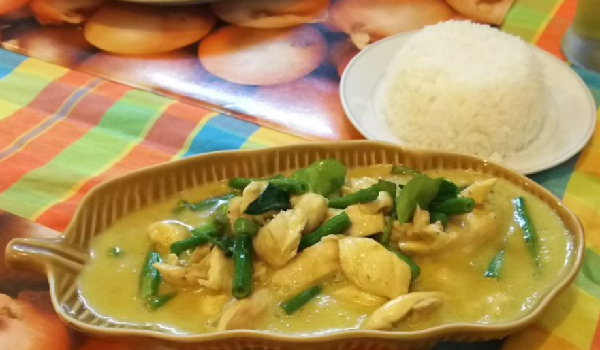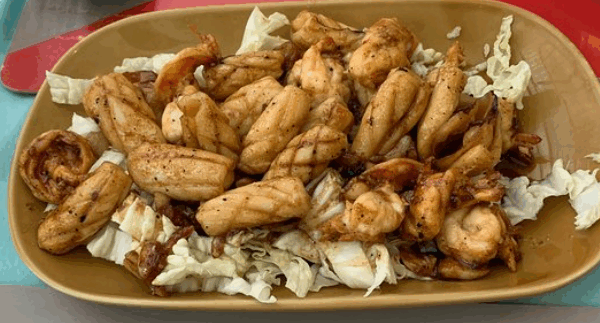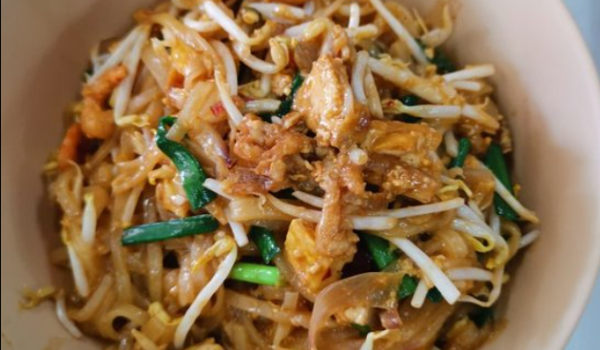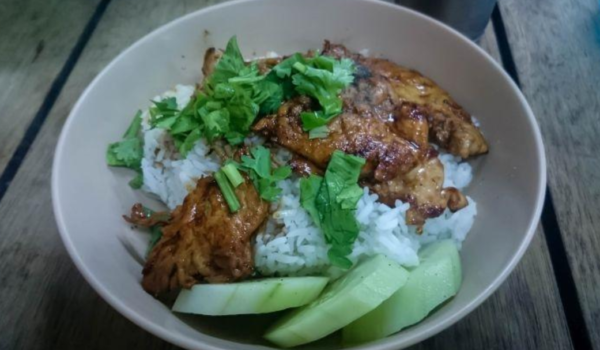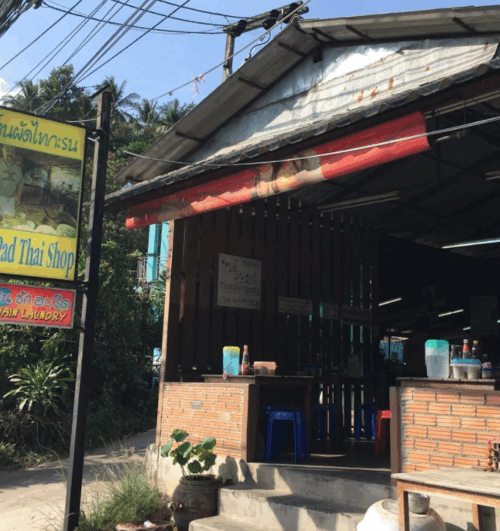 Karon Pad Thai is a true local's spot. Located in Patak road, just between Makro in Karon and Hilton Phuket Arcadia Hotel, this small shop is creates some of the most delicious dishes on the island. Obviously, the signature dish is their Pad Thai. You'll be hard pressed to find a more delicious Pad Thai than this, and at 50 THB the price is just as good! Not to be outdone is the "Gai Sauce" (chicken with brown sauce) which is extremely underrated here and also goes for 50 THB. There are also noodle soups, traditional Krapow (your choice of meat with Basil), fried rice and also Chicken on rice. Dishes are no more than 60 THB depending on what you order, so it is well worth the trip down to Karon to try this shop out. If you're up for it, we also recommend ordering a fruit smoothie from the little shop in front of the restaurant – delicious!
While Thai food is great, and it's good to get in as much of it as you can while in Thailand, sometimes it's nice just to switch to some western food and enjoy a night at the pub with usual pub grub. In the Laguna Phuket area, look no further than the excellent O'Hara's Irish Pub. Just a short distance out from the Laguna Phuket entrance, O'Hara's is a great spot to get usual pub food, a couple of cold beverages while watching the live sports of the day on the various large TVs they have around the pub. They have daily specials for food and drink running, so there's always value to be had. Highly recommend are the burger or the fish 'n' chips, however the Sunday Carvery is especially delicious!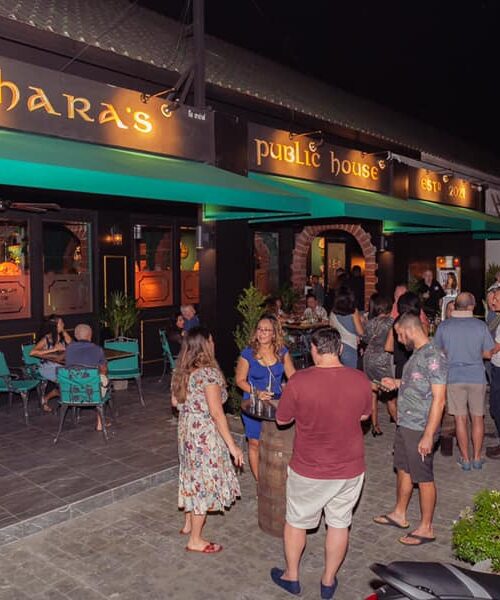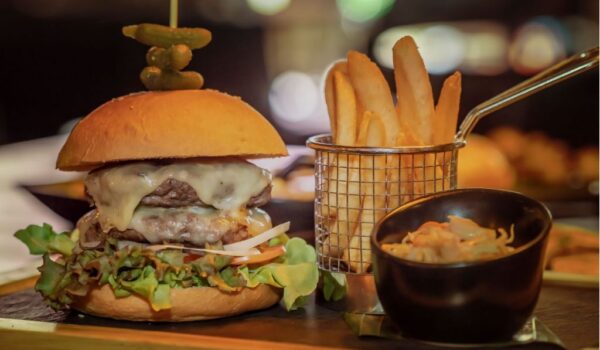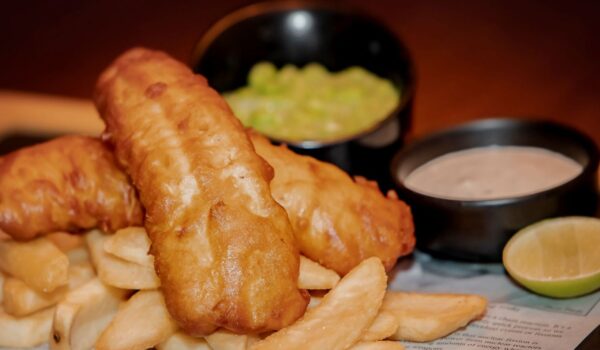 These are just some of the recommended things to see and restaurants, as well as a bit about each course in Phuket. For more information, please feel free to contact us via the form just down and to the right of this one, or drop us an email at [email protected]. We look forward to seeing you in Phuket soon!